SCP-087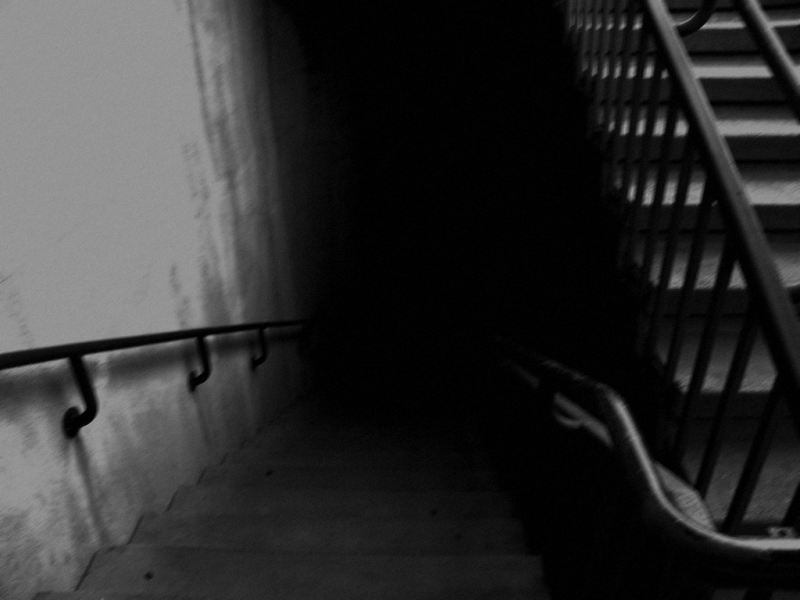 Objectnummer: SCP-087
Klasse: Euclid
Speciale insluitings procedures: SCP-087 bevindt zich op de campus van [REDACTED]. De deuropening naar de SCP-087 is gemaakt van versterkt staal met een vergrendelingsmechanisme met elektro-ontgrendeling. Het is vermomd als een conciërge wijk, in overeenstemming met het ontwerp van het gebouw. Het vergrendelingsmechanisme op de deurknop zal niet worden losgelaten tenzij ██ volt wordt gebruikt in combinatie met tegen de klok in draaien van de sleutel. De binnenkant van de deur is bekleed met 6 centimeter industriële schuimvulling.
Vanwege de resultaten van de eindverkenning (zie Document 087-IV), mag geen personeel toegang krijgen tot SCP-087.
Beschrijving: SCP-087 is een onverlichte platformtrap. Trappen dalen 13 treden af in een hoek van 38 graden voordat ze een halfrond platform van ongeveer 3 meter in diameter bereiken. De afdaling richting draait 180 graden op elk platform. Het ontwerp van de SCP-087 beperkt de onderwerpen tot een visueel bereik van ongeveer 1,5 vluchten. Een lichtbron is vereist voor alle onderwerpen die SCP-087 verkennen, omdat er geen verlichtingsarmaturen of vensters aanwezig zijn. Verlichtingsbronnen die helderder zijn dan 75 watt blijken niet effectief te zijn, omdat SCP-087 overtollig licht lijkt te absorberen.
Subject report en audio-opnames bevestigen de verontruste vocalisaties van wat een kind moet zijn in de leeftijd tussen █ en ██. De bron van de noodoproepen wordt geschat op ongeveer 200 meter onder het oorspronkelijke platform. Bij pogingen om de trap af te dalen, zijn de onderwerpen echter niet dichter bij de bron gebracht. De diepte van de afdaling, berekend uit Exploratie IV, de langste verkenning, blijkt ver voorbij zowel de mogelijke structuur van zowel het gebouw als de geologische omgeving te liggen. Op dit moment is het onbekend of SCP-087 een eindpunt heeft.
SCP-087 heeft vier op video opgenomen verkenningen door personeel van Class-D ondergaan. Elk subject dat een onderzoek uitvoert, heeft SCP-087-1 aangetroffen, dat verschijnt als een gezicht zonder zichtbare pupillen, neusgaten of mond. De aard van SCP-087-1 is volledig onduidelijk, maar er is vastgesteld dat dit niet de bron van de memorie is. Onderwerpen vertonen gevoelens van intense paranoia en angst wanneer ze worden geconfronteerd met SCP-087-1, maar het is onbepaald of deze gevoelens abnormaal zijn of gewoon natuurlijke reacties.
Addendum:
Gedurende een periode van twee weken na Exploration IV meldden verschillende personeelsleden en studenten van de [REDACTED] campus dat er met een variabele snelheid van 1-2 seconden per klop uit het interieur van de SCP-087 klopte. De deur naar de SCP-087 is voorzien van industriële vulling van 6 centimeter dik. Alle meldingen van kloppen zijn gestopt.
Geautoriseerd personeel kan verwijzen naar documenten 087-I tot en met 087-IV voor transcripties van verkenningen I - IV.
Document 087-I
Document 087-II
Document 087-III
[GEGEVENS UITGESCHAKELD]
page revision: 3, last edited:
17 Feb 2019 03:16